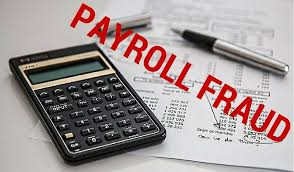 Map Unavailable

Date/Time
Date(s) - 17/03/2021
JavaScript Disabled (Your Local Timezone)
Location/Link
Zoom



Booking Spaces
Total Spaces for event - 20 | Available Spaces - 18
Description
This 3-hour webinar will help attendees discover the various types of payroll scams, how to recognize key signs of fraud, and ways to prevent and eliminate payroll fraud. It will further offer best practices to use in payroll audits to defend against fraud and negligence.
Why Should You Attend:
Payroll fraud is the most common form of employee theft and of all the accounting fraud scams, it's one of the hardest to detect. One of the difficulties in stopping payroll fraud is to understand the different types of scams that exist. How can you implement policies, procedures and strategies to identify, eliminate and prevent payroll fraud? Join us for this 60-minute webinar to discover:
Red flags to look for when identifying payroll fraud
Protocols you can put in place to prevent fraud
Using audits to find patterns, red flags and stop scams
Common risk factors companies face when it comes to payroll fraud
Real-life lessons: Strategies taken from actual fraud cases
Areas Covered in the Webinar:
Identifying Payroll Fraud: Various Types of Scams and Warning Signs to Know

The tell-tale signs of fraud: What to look for in employee behavior
Know your risk factors: Modern issues facing companies and how to prepare
The usual suspects: Common scams, schemes and plots for payroll fraud

Strategies to Detect and Prevent Fraud with Internal Controls and Polices

Tips on how to build red flag alerts into your payroll accounting
Expert guidance on how to construct internal controls that prevent fraud
Real-life payroll scams and their outcomes: Key lessons to take away

Ways to Use Payroll Audits to Defend Against Fraud and Negligence

Audit frequency: How often should you conduct audits to be effective?
Tips on different types of self-audits and methods to conduct them
Common obstacles auditors face when it comes to fraud and how to avoid them

Question and Answer Session
Who Will Benefit:
Internal and external audit professionals
Accounting and audit practitioners
HR managers
Payables specialists
Procurement managers
Compliance and ethics managers
CFOs/senior financial managers
Security personnel/fraud investigators and examiners
Bookings
Bookings are closed for this event.